Always Read the Labels
I am putting this information to you so that you can be careful NOT to purchase Made in China dog food. There have been too many cases in which China puts additives in the dog food which sickens or kills the animals. Last was virus affected corn and previous was crushed melamine in dog food. This is not necessarily in cheap dog food, some of which was in leading brands.
I recommend Diamond Naturals because it is made in the USA. There is also Blue Diamond if you prefer to pay more. They both come from the same company.
Please review how to read the bar codes for pet products. Be just as careful with toys made in china. They tend to be inhibited with toxic stuffings, and other chemicals to make your pet sick.
ALWAYS READ THE LABELS ON THE FOODS YOU BUY--NO MATTER WHAT THE FRONT OF THE BOX OR PACKAGE SAYS, TURN IT OVER AND READ THE BACK---CAREFULLY!
With all the food and pet products now coming from China, it is best to make sure you read label at the grocery store and especially Walmart when buying food products. Many products no longer show where they were made, only give where the distributor is located.
It is important to read the bar code to track its origin.
How to read Bar Codes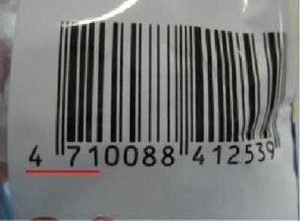 Refer to the barcode - remember if the first 3 digits are:
690-692 ... MADE IN CHINA
00 - 09 ... USA & CANADA
30 - 37 … FRANCE
40 - 44 … GERMANY
471 ... Taiwan
49 ... JAPAN
50 ... UK
BUY USA & CANADIAN by watching for "0" at the beginning of the number.