Why Diamond Naturals?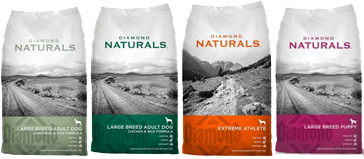 Antioxidants for overall good health and a strong immune system.
Animal protein sources for the best amino acid ratio and superior digestibility.
A blend of omega fatty acids for healthy skin and a shiny coat.
Natural fiber ingredients Probiotics to help maintain optimal digestion and intestinal health. The food is broken down to fully digest naturally.
Glucosamine and chondroitin are added to help support healthy joints.
DHA (docosahexaenoic acid) is added to Diamond Naturals Puppy formulas, Diamond Naturals Kitten Formula and Diamond Naturals Active Cat to help promote proper brain and vision development.
Natural Ingredients, No Corn, No Wheat, No Soy.
Made with purified water which prevents eye stains in small breeds.
Guaranteed analysis for ingredients adequate amounts.
Dog food is formulated to prevent and take care of most health problems such as bladder, skin, joint and sensitive stomach.
Cheaper than High end foods and Diamond Naturals contain the same nutrition.
Made in the USA!