Linus
Linus is a beautiful retriever mix. His DNA was Labrador Retriever, Golden Retriever, Chesapeake Retriever and a pinch of wire-haired pointer.
He is brilliant, loves to be held and will probably always be a large lap dog. His disposition is sensitive and very loving. He learned his commands very quickly and potty-trained himself instantly. You can't get a better dog than that!
Linus loves everyone and will happily greet you.
He holds his own to other dogs and loves cats. His curiosity is much to his surprise and wants to know all about things. He plays well with other dogs and will submit or hide behind you if another seems overpowering. He has a piercing bark when playing yet runs if another barks at him. He is very funny.
He as a puppy loves his food and treats is always a quest to give all his learned commands. He can entertain himself for hours and takes his scheduled naps. He loves his bones and will keep the day chewing on them.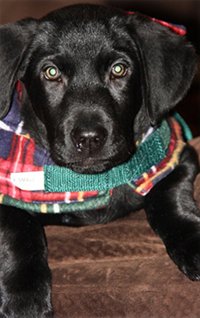 He loves tug of war and just starting to play fetch. He has much learning to do and he is willing to learn. He throws out his little growl in tug of war and will shortly loose his baby teeth, so don't be surprised to find a little tooth in the toy.
Linus loves his blanket and will hunt it down to lay to sleep on it. That is how Linus got his name. He is a happy go lucky dog and you can't help to fall in love with him.
Linus is going to be a big dog. His formation is absolutely beautiful. He will be a buff and gorgeous built dog.
This little guy brings much joy and will love you forever. Much happiness with LINUS.