The Problem With "Outdoor Dogs"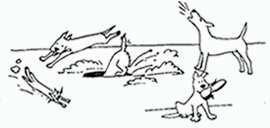 The domestic dog is a social animal which thrives on mental and physical stimulation. He requires the company of his pack in order to have a fulfilled life.
The indoor dog who lives in the body of the family unit receives the majority of it training in real-life situations, all day, every day. He is calmer in the house, because it isn't a novelty to be there.
The outdoor "farm dog" had a job which kept him physically and mentally satisfied, and he worked side by side with his master every day. He didn't spend hours and hours in a boring backyard with the same old bone, pacing the same old fence, or worse, left on a chain running around and around in circles. Having another dog for "company" doesn't solve the problem - you just have two dogs starving for attention and needing a job.
Many behavior problems are consistently seen and are exaggerated in outdoor dogs:
Hyperactive behavior: Due to the novelty of the infrequent attention it receives, the dog is on an adrenaline "high" every time its owners appear. He's not stupid - he's just not thinking; he's reacting. No matter how much training you do, the sheer excitement of your arrival makes it nearly impossible for the dog to listen and follow directions.
Jumping up: So frantic to get close to its people, the outdoor dog launches himself to get as close to visitors as possible. The chained dog leaps in frustration at the end of his tether while his people stand just out of reach - where it's safe.
Excessive barking: Boredom barking: bark-bark ... bark, bark, bark ... bark, bark. Howl. Excitement barking, barking to get attention - even if the attention is a momentary face in the window yelling "shut up!"
Digging, chewing, and other destructive behaviors: He needs interesting activities to stimulate him mentally and physically and if left to his own devices, will make up his own games.
Escaping: If a dog's social needs and physical exercise requirements aren't met at home, he will go elsewhere to gain the attention and social life that it misses in its lonely backyard.
Unbearable house manners: How can he be good at something when he gets so little chance to practice it? The "mostly outdoor - gets to come in every once in awhile" dog is a maniac when he comes in, so he is let in less often, so he gets even less practice, so his behavior gets even worse, so he is rarely invited in. It's a vicious cycle.
Over-protective, anti-social behavior: He doesn't learn to socialize with other dogs, kids or learn the human environment. He will become aggressive and as the dog gets older, will become territorial, possessive and will attack. Think of a child approaching the dog and grabs the toy to play with the dog, he will bite that child over possession of his toy.
He doesn't have a job - so he makes up his own: Self-appointed jobs are rarely the ones you would have chosen. The Labrador might dismantle the deck or rid the yard of pesky rosebushes. The Malamute might dig to China. You can't prevent or re-direct behaviors that you're not there to see!