What is a Therapy/Service Dog?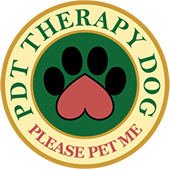 A therapy dog is a pet that has been trained, tested, registered, and insured to accompany his owner to visit patients and residents of facilities like hospitals and nursing homes to cheer up the people living there. A well-behaved pet can typically complete training in about 1-4 weeks with required visiting hours. A therapy dog is legally a pet. The objective of registration is to show facility managers that this dog has been professionally trained, is well behaved, safe around people, and insured against liabilities. It is not a license to walk into a hospital or nursing home without permission.
Do you certify or register a therapy/service animal?
Certification means that the dog has been tested and shown to meet certain required standards. Registration means the professional trainer keeps proof of all records of the dog's performance and stands behind the dog for any questionable concerns.
There are no standards or procedures for certifying a service animal under U.S. federal law. Certification is not required as a condition of using an animal as a service animal. Fake certification is for sale over the Internet. They are scam businesses selling fake certification by doing a Google search. A scam is apparent from a quick review of their website because they will sell their certification and registering to anyone for a fee without ever actually training or evaluating the dog themselves. The Registration database of animals signed up doesn't go anywhere. It is a for profit business.
The ADA does not require service animals to be "certified". This type of assessment and identification is not a legal requirement under the ADA and other federal non-discrimination laws, but is preferred by some handlers. Some service dog trainers and programs evaluate the dogs they train and provide the handlers with some type of identification card for proof of training. Even though the ADA doesn't require certification, you still need to have proof of training guidelines.
PDT (Purrfect Dog Training) stands fully behind their dogs and training. I take full responsibility of the dog's training and behavior. My certifications show proof of professional training with complete support. Dogs that are trained by PDT go through intensive training. If any questions from any outside source, I am here to speak to anyone with concerns.
I guarantee my training and stay with you as long as your dog continues service. The package includes: Tests, vests, ID cards, patches and certification award to meet all tasks including federal and state guideline requirements. PDT offers a thorough evaluation, training program, and follow-up for its Therapy/Service Dogs. The handler and the dog is a team. Companies are cracking down to show proof of a therapy or service animal. Make sure you have your credentials.